Xi'an Silk Genesis textile Co.,Ltd. is a private-enterprise with the self-operated import and export right which intergrated the weaving, printing and dyeing . On the basis of dealing with the common fabrics, we are dedicated to research, develop, promote and popularize the new products. We hold the 100 advanced air looms and a 180 printing and dyeing producing line, and we successfully developed the special fabric as followed: flame retardant, flameproof and heat-insulation series, anti-static series, oil resistance and water repellency series, acid and basic resistance series, radiation protection series, dustproof and soil release series, anti-bacteria and odor proof series, without formaldehyde and permanent press series, etc. The features and technical index of our products have reached or exceeded national standard, and that these all have been tested, authenticated and certificated by SGS, ITS.
   We are in conformity with the tenet of 'Adhering to Sincerity, Pursuing for Excellence, Overcoming Ourselves, and Never Getting Satisfied', and service sincerely for numerous domestic and overseas industries with reliable quality and reasonable price such as mining, petroleum chemistry, gas exploration, electronics and habiliment manufacturing, etc. Welcome the domestic and overseas customers to contact with us to consult and hold talks.
Customer and quality are our company\'s number one priority, and we will put out more market-welcomed products. Upholding quality products, preferential policies, excellent services and mutually beneficial essence, we are sincerely willing to provide best services for you and make progress together with you!
Nice to know you from internet, Hope we could be good business in the future.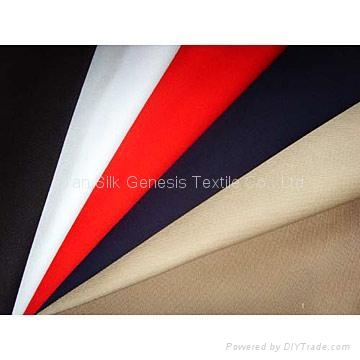 As a professional Functional Fabric manufacturer, supplier and exporter with a factory in China Main land, our main products include all kinds of Functional Fabric. We could offer you nomex IIIA products including thread, yarn, fabric, zipper and apparel in Xi'an, china. nomex IIIA is a blend of nomex, kevlar and a static dissipative fiber. it is inherently flame resistant. material has excellent resistance to mildew, aging and abrasion and laundering. it dose not burn or melt in fire. we manufacture the mentioned products with nomexiiia in china. there are 40s/3 and 30s/3 threads for sewing, 4.5oz and 6.0oz weight of weaved fabrics and other knitted fabrics, one-way or two-way nomexiiia zipper for different apparels such as shirt, jacket, pants, labcoat and coverall. they are widely used by the army, police, firehouse, petroleum, metallurgy and auto racing, etc. many colors such as royal blue, navy blue, orange, green, yellow, red and tan are available for selection. Besides this, we also deal with other kinds of textiles. Our mainly production is as the follow: --------Weave fabric (Cotton, Poly / Cotton, Nylon / Cotton, Cotton / Nylon, Yarn-dyed eg. ) -------Knitting (Cotton, Polyester, tricot, Mesh, Fleece) -------Denim -------Line fabric -------100% Polyester fabric (Micro fabric, Taslan, eg) The fabric could use for garment and homely textile. Most of our product are export to U. S. A & Europe. Our serve is as the follow: ------lab-dip sample making ------sales sample making ------bulk order making ------collection sample resources We provide you with high quality Fabric and excellent buy services. Enquiries from global wholesalers, distributors, buyers, agents, are welcome. If you are interested in any item of our Fabric, please feel free to visit our web and contact with us. We would like to be your reliable Fabric manufacturer We also could offer you mostly weave fabric and some knitting and tricot fabric. please contact with us for more detail.